offers
free worksheet generators, printables makers, a free matching worksheet maker, tracing sheet creator, spaghetti string generator, and reading activity wizard
to use as
resources for lessons, lesson plans and printable materials for classes
.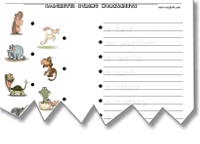 The matching worksheet maker is a teachers tool that allows you to
print matching worksheets, make printable tracing sheets, or vocabulary and reading with pictures
from MES-English flashcards. You can write single words, a couple sentences or use them as tracing practice only.


You will need to download and install this font if you want to make a tracing version or the worksheets may not look right.





Or try the super maker with all vocab options if you dare:

To install the font click on the font file and save the file to 'my documents.' Open the file. There will be one font file named 'Princd_.ttf.' Leave this window open for now.

Go to 'My Computer' and open it in a new window. Select 'control panel.' You should see a folder labeled 'font.' Open that folder. Now drag the font file, 'Princd_.ttf' to the font folder and you're all done!

Once your writing worksheet has been generated, go into the 'file' menu at the top left of the browser and choose print.

These can handle some foreign languages as well. So, French teachers, LOTE teachers, German teachers, Spanish teachers and more can use the worksheet wizard in their classes as well. These are also great for preschool, kindergarten and other elementary school teachers to use as young learner resources.

These should print fine if you are printing on A4 paper or Letter. However, if the game is printing on two pages, go to 'file' and select 'page properties.' You'll see an option for margins. Reduce the top and bottom margins and then close that window. Now you are ready to print.