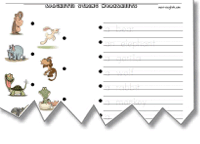 Free matching worksheet templates and spaghetti string activities
for kids: Make printable worksheets with vocabulary pictures and your custom text. You can choose to make a reading only activity with a word or even sentences or there is a version for students to trace and practice writing. Both templates have the students connect the text portion to the pictures.
Below, you'll find the categories and under each category links to both templates for that grouping.
These should be able to handle most foreign languages as well. So, French teachers, LOTE teachers, German teachers, Spanish teachers and more can use the worksheet wizard in their classes as well. If you are unable to see the text correctly for a language other than English, please send me an email. I'll do my best to add that functionality.
These should print fine if you are printing on A4 paper or Letter. However, if the worksheet is printing on two pages, go to 'file' and select 'page properties.' You'll see an option for margins. Reduce the top and bottom margins and then close that window. Now you are ready to print.