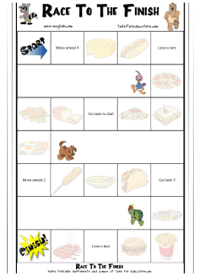 Free board game maker to make board games for kids
, games for school, parties, home use, anything!
More game styles listed below!
The Race to the Finish template is a cute board game that allows you to print personalized board games. You can select a board with all images, make a board with text of your choice and mix with images, or just create a board that is all text. It's super simple, easy to use, but very powerful.
Create board games with images:
I hope to have a few game options but here's what I have so far:
the Galactic Challenge is a sci-fi theme.
Fantasy Park is a cool fantasy design
Race to the Finish is a cute board game with an animal theme.
Racing Loop game - for more practice of your learning target